[ONDERZOEK] 'Intensief gebruik sociale media geeft tieners minder plezier in het leven'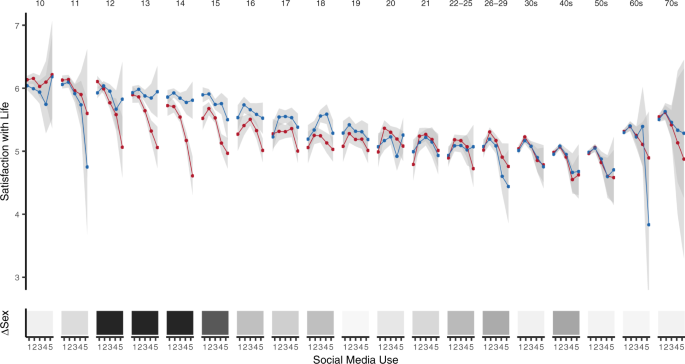 Tieners die veel tijd doorbrengen op sociale media zijn een stuk minder tevreden met hun leven. Zo zou blijken uit een nieuw onderzoek gepubliceerd op Nature.com genaamd 'Windows of developmental sensitivity to social media'. De grootste impact van het gebruik van sociale media valt bij jongens en meisjes op verschillende leeftijden maar kent ook veel tegenstrijdigheden, zo zeggen de onderzoekers:
Technological innovations have shaped the ways in which we connect with each other1. Yet the recent adoption of social media has fundamentally transformed how humans spend their time, portray themselves and communicate. The repercussions of such changes have induced widespread concern2,3,4,5. Yet there is still considerable uncertainty about how social media use relates to well-being. Meta-analyses have identified small or negligible negative links between social media use and well-being6,7, while experimental evidence is mixed8,9.
De link tussen sociale media en het tevreden zijn in het leven, verandert als de tiener ouder wordt. Het veel gebruiken van sociale media zou als beginnend volwassene een negatief effect hebben:
The relationship between social media use and life satisfaction changes across adolescent development. Our analyses of two UK datasets comprising 84,011 participants (10–80 years old) find that the cross-sectional relationship between self-reported estimates of social media use and life satisfaction ratings is most negative in younger adolescents. Furthermore, sex differences in this relationship are only present during this time. Longitudinal analyses of 17,409 participants (10–21 years old) suggest distinct developmental windows of sensitivity to social media in adolescence, when higher estimated social media use predicts a decrease in life satisfaction ratings one year later (and vice-versa: lower estimated social media use predicts an increase in life satisfaction ratings). These windows occur at different ages for males (14–15 and 19 years old) and females (11–13 and 19 years old). Decreases in life satisfaction ratings also predicted subsequent increases in estimated social media use, however, these were not associated with age or sex.
Breed onderzoek en tegenstellingen
De onderzoekers bekeken data van zo'n 70.000 Britse burgers van alle leeftijden – niet alleen tieners – waarbij de gegevens tussen 2011 en 2018 werden verzameld.  Toch is de conclusie niet helemaal eenduidig; 16- tot 21-jarigen zouden minder gelukkig zijn als zij heel veel, of juist heel weinig tijd op de sociale media doorbrengen.
Men spreekt zelfs van een scenario waarbij oudere tieners die 'juist lang genoeg' op sociale media zitten het gelukkigst zouden zijn.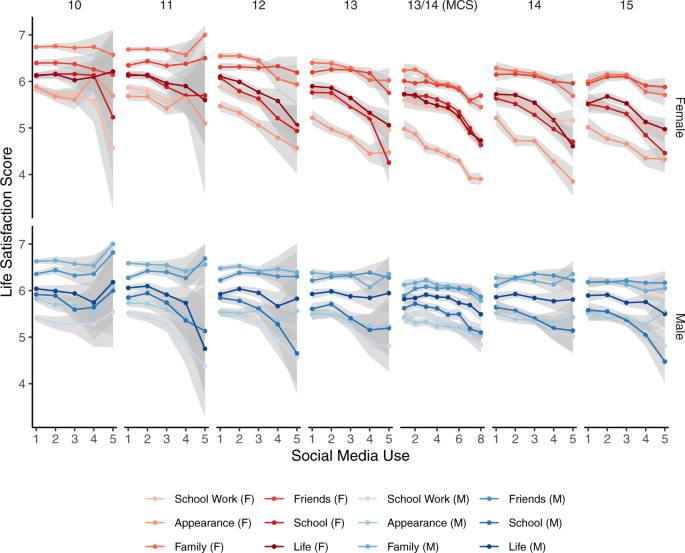 Veel gebruik van sociale media had bij elke leeftijdsgroep een negatief effect:
Top: The cross-sectional relationship between estimated social media use and a one-item life satisfaction measure for 72,287 UK participants between the age of 10 and 80 years. The results are split by age and self-report sex: females = red, males = blue. The 95% confidence intervals represent the lower and upper Gaussian confidence limits around the mean based on the t-distribution. Bottom: Shading of each rectangle represents calculated AIC weights, i.e., whether a model relating estimated social media use and ratings of life satisfaction that takes into account a possible sex difference is more likely to represent the data than a model that does not take into account sex: darker shade = model with sex differences is more likely. It should be noted that as high levels of social media use are very rare in the youngest and oldest age groups present in the data (e.g., ages 10, 11, and 60+, Supplementary Fig. 1), one cannot evaluate functional form in these groups. Further, as most participants were measured multiple times, more than one data point per participant will appear in this graph. Source data for this figure are provided as a Source Data file.